Among the most difficult and crucial questions for a commercial production company to answer is how to acquire and keep customers. A production company's output and income are highly correlated with the number of clients they have, but acquiring clients is a time-consuming, expensive process with really no assurance of success. That's why it's so important for producers to know how to network successfully.
The goal of this article is to help you improve the effectiveness of your client lead generation and advocacy efforts by reviewing some networking and self-promotion best practices and pointing out a few pitfalls to avoid. Your production company can make the most of these guidelines to optimize its strategies in light of its unique objectives.
It is Necessary to Begin by Figuring Out Who Your Perfect Customers Are
The first step in attracting the ideal customers for your business is figuring out who you want to target with your networking and promotional efforts. Before pursuing new clients, it's important to examine your company's long-term objectives and determine, as specifically as possible, the type of customers you want to serve.
While advanced client profiling may not be to everyone's networking tastes, it is important for businesses in the production industry to at least consider the advantages of self-reflection. Companies in the production industry, no matter their specialization or size, can benefit from a deeper understanding of the different types of clients and how they fit into the bigger picture.
Investing in the wrong clients will lead to a waste of resources for production companies. The contamination of their brand's image could have far-reaching consequences for the company's bottom line. On the contrary, if your production company takes the time to create a profile of its ideal client, it can better prioritise leads and focus its efforts in the areas most likely to bring in revenue. This will drastically cut down on the time and effort wasted during the client acquisition process.
Recognising the appropriate size, age, financing level, and other demographic information points of your prospective customers can assist you in generating brand-new leads naturally and at a relatively low cost, even if the vast majority of your leads will come from recommendations and networking. Among the most convenient ways to discover new customers in the digital world is to conduct a database search utilising this data. All right, now we get to the entertaining part.
Marketing and Social Networking Advice
There's more to attracting new clients than just making connections. We'll discuss those possibilities, which are important for many producers, but we'll also delve into the importance of keeping relationships alive. But first, the basics:
Make a Portfolio of Your Work
It is obvious that if you run a production company and want customers, you need to show that you can produce. Regardless of the service level, the workmanship of the job itself should be the main selling point to potential customers. A reel is a traditional format for showcasing a production company's work. It's crucial to think about other aspects of the presentation that will complete your brand, even though the reel is the most direct and essential part of a production company's portfolio.
Profiles on visually appealing social media sites (like Vimeo, Instagram, and even LinkedIn) can boost your brand's visibility and enable you to position it in the market with greater precision, for example. A website is frequently just as critical as a reel. An organization's portfolio may also include its infrastructure and service offerings. Do you have post-production facilities in-house? Leasing tools? Do you have any in-house art directors or marketing pros? The assets of your production company can be just as impressive as any reel you've seen. Don't be shy about showing them off when the time is right.
The beauty of a diversified portfolio is that its components play to each investor's established advantages. They should be able to be used to win new customers and retain existing ones with little to no additional expense.
Use Your Connections to Your Advantage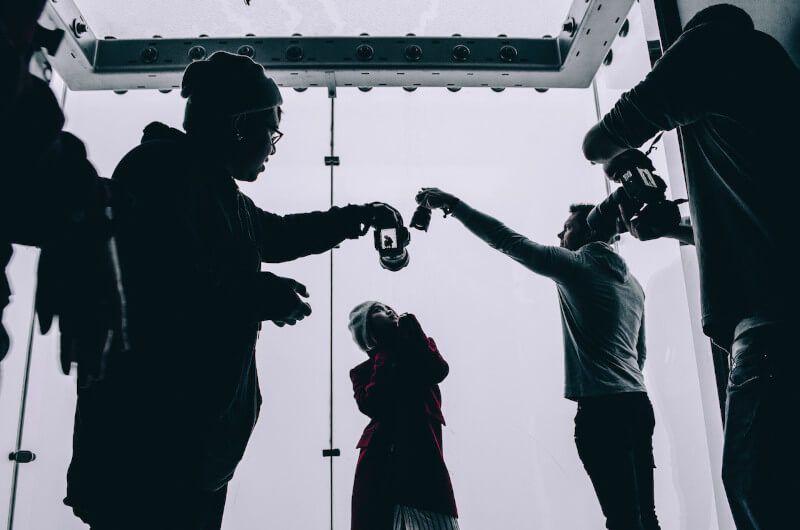 Networking is the Key to Opening Doors
The best way for a production team to land new customers is to use its existing connections to solicit services. Most people genuinely want to lend a hand when they can, especially if they feel there's a chance they'll be repaid in the future. Your production company will have much greater access to information, contacts, and potential customers if it makes good use of its network. According to YLO, an established production company in Cape Town, "Building relationships through networking requires an attitude of "scratch my back, and I'll scratch yours," which refers to the practice of supporting one another. And when you're first starting in your job, you won't always be in a position to offer assistance to someone who is significantly more senior than you are. Because of this, enlisting the assistance of coworkers is not only much simpler but also more beneficial."
However, if you're looking to build your expert network, there are plenty of opportunities to do so, from casual encounters with other people in the workplace to chance meetings with people in the production industry at the supermarket. It's possible to count them in the millions.
The Third Rule of Self-Promotion
Promotion is making people aware of your production company and the services you offer so that you can gain customers and expand your brand.
Most common examples of traditional forms of advertising include billboards, television commercials, and branded content. Its purpose is to persuade consumers that a given product or service is more valuable than its competitors. Traditional advertising may yield some results for a production company, but it can be expensive and challenging to zero in on a specific demographic of consumers. Production companies ought to be cautious of launching conventional advertising campaigns unless they have solid, well-thought-out goals.
Employ Outside Sales Agents
In addition to promoting itself through its network and portfolio, a production company can also benefit from working with a sales representative. Reps in this industry are experts at matching the requirements of brands and agencies with the resources of production firms. With the help of your reels and other materials, they will make a case to the company's directors for hiring you in roles you otherwise might not have gotten. It is the responsibility of the representative to find new customers so that you don't have to.
Naturally, there are still expenses involved in employing a rep. Before deciding to hire a rep, it's important to evaluate your current level of expansion and your plans for the future.
The Most Effective Networking is Done on the Job
Know that if the people you already know and work with are unhappy with you, it will be a waste of time to try to expand your network. There is room for both the good and the bad working producers because there's a lot to be acknowledged about the success of individuals who blatantly step onto other people to obtain what they want. Doing a good job and treating your coworkers with respect is a great way to build a real-world resume. Consider how you can add value to the relationships you already have as you build your network and promote yourself professionally.
Carry Out the Plan Successfully
Doing a good job is essential if you want to keep customers coming back. The reality for those working in the production industry is that success is measured in output. Consequently, a production company's good name is its most priceless asset.
You Are Only as Valuable as Your Most Recent Position
For the simple reason that satisfying customers requires more than just fulfilling their requests on time. The best approach to finding out how to entice new customers to join your network in the service sector is to provide them with an unforgettable professional experience.
How You and Your Business Go About Doing This is, of course, Up to You
The great news, from an economic perspective, is that the prices of effective execution should be the same as usual. It should be simpler than many other business operations to calculate the monetary value of time, effort, and money invested. And keep in mind that even if a client doesn't give you instant work, a strong performance from your production company and its self-employed teams can still be lucrative. Successful execution at any stage of the sales process will leave a positive impression on the client and increase the likelihood that they will recommend you to others.
Concluding Remarks
Regardless of the methods you employ, your professional demeanor will determine how much work you receive. Good manners and hard work are more valuable than a resume in today's job market.